According to the latest Qantas Travel Insider magazine, Melbourne's very own Bistro Guillaume is leading the way in Australia's new wave of French restaurants, proving carefully considered interior design and a traditional menu prepared with love will never go out of fashion.
The French-inspired restaurant is going from strength to strength for their award-winning menu offering both traditional and modern delicacies at a surprisingly reasonable price, and a tightly edited wine list offering both French and local varieties.
But what makes Bistro Guillaume one of the best French-inspired restaurants in Melbourne? Guests transport to another country in another time. Thanks to the restaurant's stand-out interior design by Red Design Group, guests feel like they're sitting in a 20th Century Paris bistro.
It is these details which have earned Bistro Guillaume countless positive reviews, including that recently found in Quantas' Travel Insider magazine.
Larissa Dubecki loves the traditional yet high profile experience that is Bistro Guillaume.
"Here's the restaurant that puts the 'ooh' into 'ooh la la.'
"Guillaume Brahimi's casino-dwelling bistro is a hefty dose of Parisian nostalgia wrapped in a wicked green trim; a fantasy of Frenchness complete with puffy brocade lights."
Miss Dubecki particularly loves the traditional French classic that is the souffle.
"…a rare creature of levitating beauty."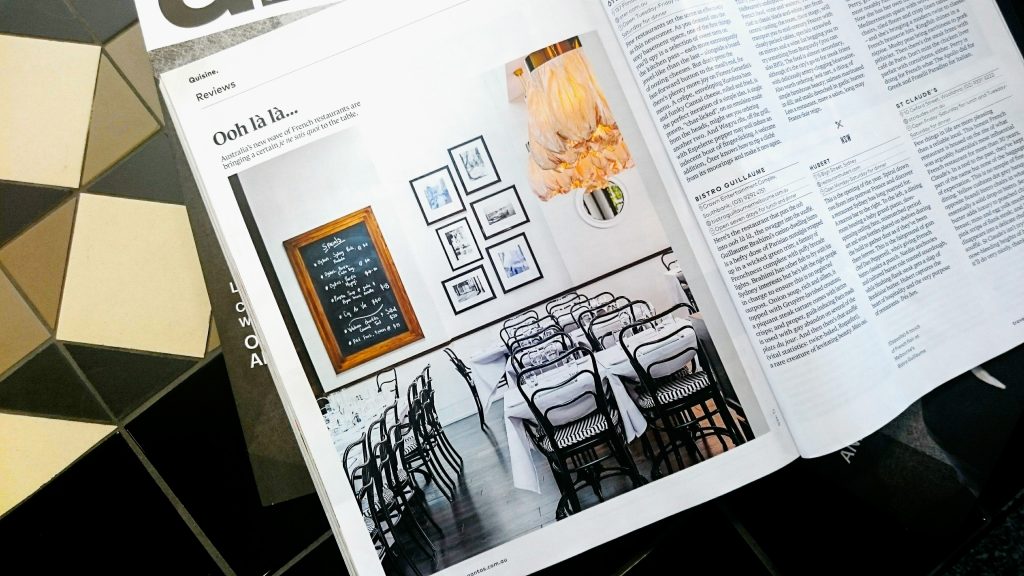 Read more: The Ultimate Guide to Australia's Best French Restaurants.